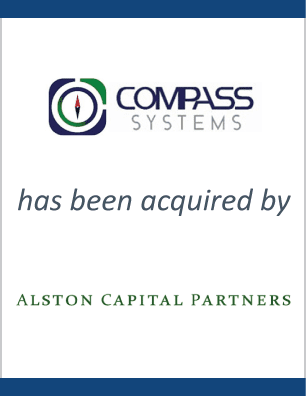 Compass Systems has sold to Alston Capital Partners
Alston Capital Partners has acquired Compass Systems and Sales, Inc. Terms of the transaction were not disclosed.
EdgePoint Capital initiated the transaction, including identifying and contacting Alston Capital, led the negotiations, and served as the exclusive financial advisor to Compass.
Founded in 1998, Compass is a design engineer, fabricator, and installer of automation and process systems. The Company's systems are primarily sold into the automotive, agriculture, and pulp & paper markets domestically and internationally. The company is based in Barberton, Ohio.
Located in New York, New York, Alston Capital Partners is a leading private equity firm focused on acquiring lower middle market companies within the environmental and specialty manufacturing sectors.
EdgePoint is a leading investment banking firm focused on providing lower and middle market business owners with merger and acquisition advisory services.