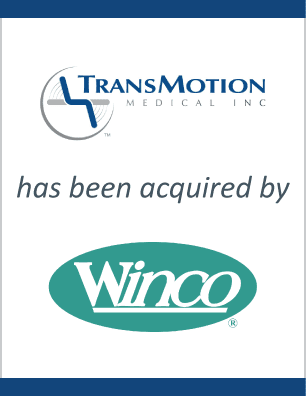 TransMotion Medical has sold to Winco Mfg., LLC
Winco Mfg., LLC has acquired TransMotion Medical ("TMM"), an Akron, Ohio-based leading manufacturer of durable medical equipment. EdgePoint served as the exclusive financial advisor to TMM. Terms of the transaction were not disclosed.
TransMotion Medical is the leading manufacturer of innovative medical stretcher-chairs, a value-added, and disruptive alternative to traditional transport stretchers, procedural tables, and recovery recliners in acute care settings. Founded in 2002, TransMotion Medical has transformed patient transport, offering a solution that eliminates time-intensive and dangerous patient transfers and the need for three distinct pieces of equipment.
Headquartered in Ocala, Florida, Winco Mfg., manufactures a spectrum of specialty durable medical equipment, including medical chairs and recliners, treatment tables, privacy screens, phlebotomy chairs, and other furnishings to a full wide range of healthcare providers.
EdgePoint is a leading investment banking firm focused on providing middle market business owners with merger and acquisition advisory services.

TransMotion received a premium value and financial terms in comparison to those being received within the market, exceeding the Company's expectations

Ryan Yerkey
Former President
TransMotion Medical, Inc.
The medical product knowledge and expertise of EdgePoint enabled us to have a highly competitive auction process for the sale of TMM. EdgePoint's disciplined process and negotiating skills made the difference. We were pleased to have found a partner who will support our continued growth.