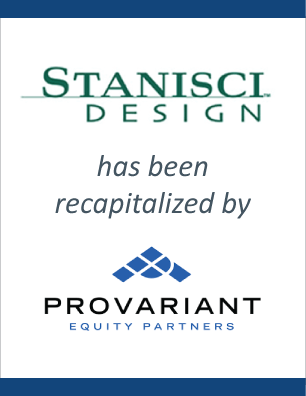 Stanisci Design has been recapitalized by Provariant Equity Partners
Provariant Equity Partners ("Provariant") recapitalized Stanisci Design ("Stanisci" or the "Company") in partnership with the Company's founders, Bill and Teresa Stanisci in 2021. Stanisci is a leading manufacturer of high-quality, American-made custom range hoods and arched valances for kitchen professionals throughout the U.S. and Canada. EdgePoint served as the exclusive financial advisor to Stanisci.  Terms of the transaction were not disclosed.
Stanisci Design, headquartered in Oxford, MI, was founded in 2001 and specializes in the manufacture and distribution of range hoods, offering its customers the highest quality and widest array of options in the industry. Stanisci serves cabinet manufacturers and dealers throughout North America offering custom hoods utilizing the best traditional and new designs that are engineered for quality and ease of installation.
Located outside of Cleveland, Ohio, Provariant focuses on recapitalizations partnering with founder and family-owned businesses, leveraging their diverse professional backgrounds and experience across 20 platform investments and 34 acquisitions while partners at Provariant Equity Partners and previously at Linsalata Capital Partners.
EdgePoint is a leading investment banking firm focused on providing middle market business owners with merger and acquisition advisory services.