Real Food Blends has been acquired by Nutricia, part of Danone S.A.
Nutricia, part of world-leading food, beverage and nutrition company Danone, acquired Real Food Blends, a Chesterton, IN based provider of real food meals for people with feeding tubes. EdgePoint served as the exclusive financial advisor to Real Food Blends. Terms of the transaction were not disclosed.
Real Food Blends was founded in 2012 by Julie and Tony Bombacino, who were inspired by their young tube-fed son, AJ, and a belief that we all deserve real food. Armed with determination and their love for AJ, the Bombacinos spent years in research and development to create Real Food Blends, and provide access to 100% real food meals and nutritional variety to people with feeding tubes and their families, at home or on-the-go.
Real Food Blends is the only company that focuses solely on real food products in the more than $1 billion U.S. tube-feeding market. Nutricia, committed to transforming lives through the power of nutrition for more than 120 years, supports healthy growth and development during the first 1,000 days including faltering growth, food allergy, rare metabolic diseases, epilepsy and wound healing. Nutricia and Real Food Blends share a deep commitment to bring life-changing, and lifesaving nutrition solutions to people in need, including children and adults with feeding tubes, and their families.
Nutricia is part of Danone's Specialized Nutrition business. Danone is a global leader in the food industry and in North America is the world's largest Certified B Corporation®, with a mission to bring health through food to as many people as possible. Through Nutricia's broad reach in the U.S., more parents, adults, and healthcare providers will be made aware of Real Food Blends' unique product offerings.
EdgePoint is a leading investment banking firm focused on providing middle market business owners with merger and acquisition advisory services.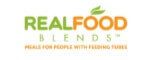 Headquartered in Chesterton, IN, Real Food Blends is a pioneer of blended real food meals for the enteral nutrition market, operating a trusted brand that is disrupting a multi-billion-dollar industry.
Our clients say...

Julie & Tony Bombacino
Founders and Former Owners
Real Food Blends
When we decided to sell our company, we met with investment firms of all sizes. We connected with EdgePoint on a personal level during the very first call. They were knowledgeable, professional and easy to talk to – they were human, real and not caught up in banker/PE talk trying to talk over and around us. They referred to themselves as "blue collar" investment bankers. That really resonated with Julie and I since we come from humble beginnings and blue-collar families.
Once we began the process, the EP team guided us every step of the way; from creating our pitch deck, making the buyer list and through the ups and downs of a multi-month acquisition process. The really impressive part is they did all of this during a global pandemic and were able to engage, vet and connect with multi-national companies without ever meeting with them in person. In the end, we found a strategic buyer and were able to secure a deal with a favorable valuation and set of terms. We're grateful for Edgepoint and know we couldn't have secured this outcome without their experience, guidance, humility and work ethic.