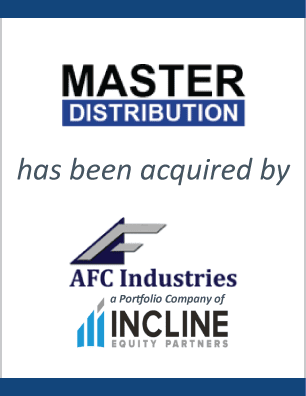 Master Distribution LLC has been acquired by AFC Industries, Inc., a portfolio company of Incline Equity Partners
AFC Industries, Inc., a portfolio company of Incline Equity Partners acquired Master Distribution LLC, a Brunswick, Ohio-based value-added distributor of channel and pipe fittings and other related metal hardware products. EdgePoint served as the exclusive financial advisor to Master Distribution. Terms of the transaction were not disclosed.
Founded in 2005, Master Distribution maintains a comprehensive portfolio of difficult-to-source products used across diverse applications among commercial, industrial, infrastructure, utility, and energy end-markets. As a result of the company's strong inventory management and warehousing capabilities, Master Distribution creates bespoke product programs for its customers, including packaging and labeling of orders in order to meet their needs on a just-in-time basis.
Headquartered in Fairfield, Ohio, AFC Industries, Inc. is a leading provider of supply chain management services and vendor managed inventory programs to original equipment manufacturers. The company specializes in fasteners and other essential assembly components. AFC also provides a wide array of value-added services, including kitting, packaging, assembly, and other customization specific to their customers' needs.
EdgePoint is a leading investment banking firm focused on providing middle market business owners with merger and acquisition advisory services.
Our clients say...

Jim Sturgill
President / CEO
Master Distribution LLC
EdgePoint's team of highly skilled professionals truly exceeded our expectations as they guided us through the marketing and selling of our business. They are some of the most knowledgeable people I have worked with during my 45 plus year career. They maintained excellent communication throughout the entire process and the advice given to us through each phase was extremely helpful. Our company realized a higher value than originally expected due to EdgePoint's excellent marketing preparations and timely execution throughout the process. This was a direct result of the scope of understanding they have from their many years of experience. They are beyond good at what they do and I would highly recommend EdgePoint to anyone who may be looking to sell their business.
RECENT TRANSACTIONS