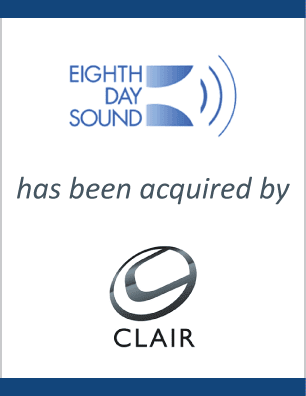 Eighth Day Sound Systems, Inc. has been acquired by Clair Global
Clair Global acquired Eighth Day Sound Systems, Inc. (Eighth Day), a Cleveland, Ohio headquartered provider of live sound coverage for the world's top-grossing tours and festivals. EdgePoint served as the exclusive financial advisor to Eighth Day. Terms of the transaction were not disclosed.
Founded in 1980, Eighth Day Sound is a leader in providing sound equipment and a "relationship first" experience to artists, tour directors and production managers. With offices in Cleveland, Los Angeles, London and Sydney, Eighth Day's equipment and expertise are used at concerts, events, and venues globally.
Building on over 50 years of experience, Clair Global is a leading service provider to the touring, festival, broadcast, and corporate markets. Clair provides clients with solutions to their needs in audio, communications, backline, and data services.
EdgePoint is a leading investment banking firm focused on providing middle market business owners with merger and acquisition advisory services.
Our clients say...

Tom Arko
President
Eighth Day Sound
I could not be more pleased with the services of Edgepoint. The team worked with us through a long and difficult process with an initial buyer, managing the process and working with my staff side-by-side. Most importantly, they instilled in us the confidence that great alternatives were available if at any point we didn't feel it was the right candidate. We didn't! Edgepoint negotiated and closed an even better deal in less time than we spent negotiating with the initial party.