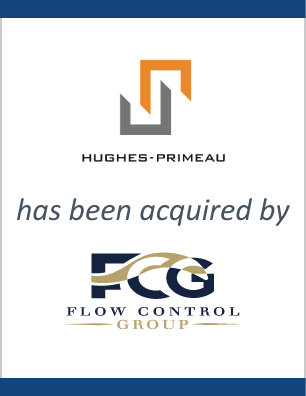 Flow Control Group acquired Hughes-Primeau Controls, Inc.
Flow Control Group acquired Hughes-Primeau Controls, Inc. (Hughes-Primeau). Headquartered in Oakwood Village, Ohio, Hughes-Primeau is an engineering-based distributor of process and flow control equipment. EdgePoint served as the exclusive financial advisor to the company. Terms of the transaction were not disclosed.
Founded in 1986, Hughes-Primeau specializes in the categories of heat trace, instrumentation & controls, and valves & actuation devices, and supplies an extensive line of products for leading brands. The Company employs an engineered-based approach to solving complex needs for customers in a variety of end-markets such as oil & gas, power generation, chemical, water/wastewater treatment, consumer products, and general industrial.
EdgePoint is a leading investment banking firm focused on providing middle market business owners with merger and acquisition advisory services.
Our clients say...

Paul Krause
Former President & Owner
Hughes-Primeau Controls
I am so happy I chose EdgePoint to market and sell my business. They were professional from the beginning to end and did everything they said they were going to do. They did a great job marketing our business and brought multiple buyers to the table with excellent offers. They provided excellent guidance through all phases of the process as well, especially as we met with prospective buyers. I can't imagine going through this process without EdgePoint and would not hesitate to recommend them to anyone looking to sell their business. Great job!!