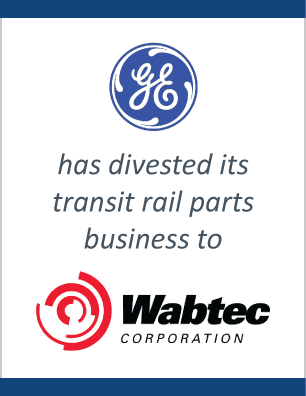 General Electric Company has sold its Rail Transit Parts Business to Wabtec Corporation.
General Electric Company (NYSE: GE), through its GE Transportation subsidiary, sold its Transit Railcar Propulsion Components System Parts and Accessories Products business to Westinghouse Air Brake Technologies Corporation, doing business as Wabtec Corporation (NYSE: WAB). Terms of the transaction were not disclosed.
EdgePoint Capital served as the exclusive sell-side advisor to General Electric Company throughout the sale process.
General Electric Company, through its GE Transportation business, is a leading provider of locomotive, signaling, communications, and control products and services to the international rail, marine, mining, energy, stationary power, drilling, and wind industries. Headquartered in Erie, Pennsylvania, the Company has locations in North America, South America, Europe, Asia, Africa, and the Middle East.
Wabtec Corporation is a premier provider of technology-based products and services for the freight rail and passenger transit industries worldwide. Wabtec Corporation was founded in 1869 and is headquartered in Wilmerding, Pennsylvania.
EdgePoint is a specialized investment banking firm that advises owners of middle market businesses on sales, divestitures, acquisitions and other strategic transactions.