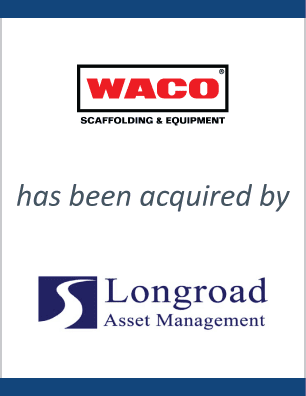 Waco Scaffolding has sold to Longroad Asset Management
Longroad Asset Management LLC has acquired the debt of Waco International Corporation (WACO) from 5/3rd. Terms of the transaction were not disclosed.
EdgePoint Capital was involved in the sale of the debt. EdgePoint contacted Longroad on behalf of Waco, led the negotiations, and served as the exclusive financial advisor to Waco.
Founded in 1945, Waco manufactures, rents, sells, and erects scaffolding and shoring equipment. Waco is a premier brand in scaffolding and shoring equipment, and the Company markets its products directly and through a national network of distributors. The company is based in Cleveland, Ohio.
Located in Stamford, Connecticut Longroad Asset Management LLC is a leading private equity firm dedicated to special situation investing and the growth of lower middle-market portfolio companies.
EdgePoint is a leading investment banking firm focused on providing lower and middle market business owners with merger and acquisition advisory services.