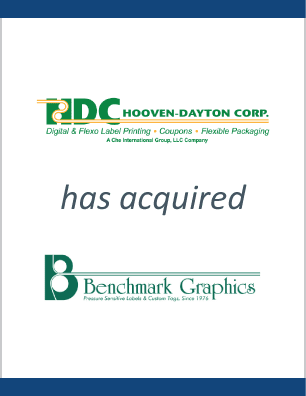 Hooven-Dayton Corporation has acquired Benchmark Graphics, Inc.
EdgePoint Capital initiated the transaction, led the negotiations, and served as exclusive financial advisor to Hooven-Dayton Corporation. Terms of the transaction were not disclosed. EdgePoint, a member of FINRA and SIPC, is a leading investment banking firm focused on advising middle market businesses on merger and acquisition transactions.
Hooven-Dayton Corporation is a premier innovative narrow web converter and specialty printer providing flexographic and digital labels, coupons, and flexible package printing solutions to various markets including food and beverage, household products, health and beauty, medical, and pharmaceutical. Hooven-Dayton Corporation is wholly owned by the Che International Group, LLC ("CIG"), a multi-national holding company specializing in acquiring and supporting subsidiary companies across a variety of industries through joint ventures and acquisitions. Based in Dayton, Ohio, Hooven-Dayton Corporation was founded 1912 and purchased by CIG in 2007.
Benchmark Graphics, Inc. is a leading manufacturer and supplier of custom pressure-sensitive labels and tags to the retail and industrial sectors. The Company provides custom scale and stock scale labels, food and beverage prime labels, direct thermal and thermal transfer labels and tags, nursery tags and labels, and other products. Benchmark Graphics, Inc. was founded in 1976 and is based in Richmond, Indiana.