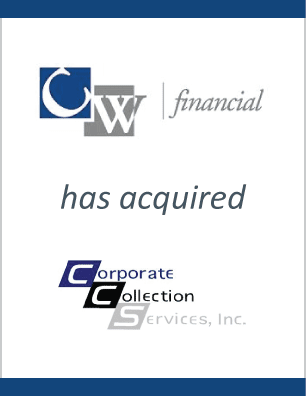 Crestwood Management has acquired Corporate Collection Services & Call Center Resources
Crestwood Management has acquired Corporate Collections Services, Inc. and Call Center Resources, Inc. Terms of the transaction were not disclosed.
EdgePoint Capital initiated the transaction, led the negotiations, and served as exclusive financial advisor to Corporate Collection Services, Inc. and Call Center Resources, Inc. EdgePoint is a leading investment banking firm focused on providing lower and middle market business owners with merger and acquisition advisory services.
Founded in 1974, Corporate Collection Services and Call Center Resources, based in Beachwood, Ohio, provides third-party accounts receivable collections and accounts receivable management solutions. The company also provides corporations with the outsourcing of custom call center services including first-party inbound and outbound telesales, customer acquisition, order processing, help-desk servicing, satisfaction surveying, and other customer support services.
Crestwood Management is a consumer finance company focused in providing under-banked and credit-challenged individuals with financial services including cashless check cashing, multifunctional debt cards, and consumer-friendly installment loans. The Company operates 123 stores in nine states and the District of Columbia.