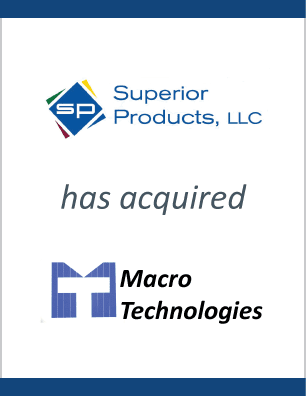 Superior Products Acquires Macro Technologies
Superior Products, Inc. of Cleveland, Ohio has acquired Macro Technologies, Inc. of Kirkland, Washington. Terms of the transaction were not disclosed.
Macro Technologies, founded in 1974, manufactures proprietary quick connects, relief valves, stainless hoses, and shutoff valves for compressed and cryogenic gases used in home medical, transportation, and industrial markets. Their products operate in extremes of temperatures, pressures, and accuracy, and are also used in the emerging LNG and CNG markets including alternative fueling.
Privately owned Superior Products, Inc., founded in 1946, designs and manufactures a complete line of compressed gas fittings, assemblies, and gas management systems for customers in the welding, medical, beverage, and specialty gas industries throughout the Americas, Asia, and Europe. CEO Don Mottinger noted that with the acquisition of Macro, 70% of Superior Products' revenue now comes from selling into the medical market, and strong synergies result from the two companies' complementary strengths.
EdgePoint Capital Advisors of Beachwood, Ohio, served as acquisition advisor to Superior Products throughout this transaction and arranged the acquisition financing. "EdgePoint did an excellent job for us throughout the process, designing a creative financial structure and obtaining the financing, as well as advising us on each step as the transaction moved along. I wouldn't want to have done it without them", said Mottinger. EdgePoint, a member of FINRA and SIPC, is a leading investment banking firm that advises owners of middle market businesses on merger and acquisition transactions.

The transaction provided liquidity to Superior's owners
Our clients say...

Don Mottinger
Former CEO
Superior Products, LLC
"We've worked with EdgePoint since 2008, when they helped us acquire Macro Technologies of Kirkland, Washington by creatively structuring and sourcing multi-layer financing. Macro made our company much larger and more valuable, and EdgePoint continued to help us prepare for an eventual sale. When we began the sale process, they were hands-on with every key aspect of the deal, including finding motivated buyers and getting things back on track several times. They used buyer competition to negotiate a higher price and better terms. It was great to have EdgePoint on our team."