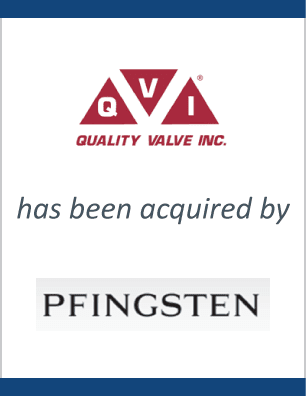 Quality Valve, Inc.
Achieving dual goals of liquidity and growth
In heavy industry, uptime is everything. When a part fails in an important machine, it's essential to replace it quickly to maintain productivity.
Quality Valve Inc. (QVI) started in 1994 as a national distributor of safety and relief valve parts serving certified valve repair companies for industry. Thanks to deep process knowledge, a large selection of replacement parts, and rapid shipping capabilities, they enjoyed steady revenue growth and strong margins for decades. Their independence has been key to their success, enabling them to stock parts for a range of original equipment manufacturer (OEM) systems, and also enabling them to treat some companies as both customers and suppliers, meaning that they sell them parts, then also sell their assemblies and products to other companies.
A family-owned business from the beginning, in 2018, company management sought to achieve two goals with one transaction: create liquidity to satisfy family estate planning needs and find a strategic partner to help them facilitate growth. They turned to EdgePoint to help them get it done.
---
Preparing for auction
The company wanted a full market auction process to qualified buyers. We advised them to hire an outside firm to perform a quality-of-earnings analysis in preparation. At the same time, we performed due diligence and prepared marketing materials. We also helped them develop and execute a communications plan with family members and key management to make sure that all parties were in alignment, a step that turned out to be essential.
With our M&A experience and knowledge of heavy industry, we were able to tailor the process to the company's needs and preemptively address any potential issues related to channel partners, while still ensuring that all relevant strategic partners were considered and involved in the process.
To achieve the threshold valuation the management team had set during a strong growth period, we monitored the trailing 12 months' EBITDA and launched marketing when the numbers supported the targeted valuation ranges.
The auction process was competitive and fast. Ultimately, Chicago-based Pfingsten Partners recapitalized QVI at a value that met the strategic and financial goals of both parties, exceeding the owners' valuation and liquidity goal, while also aligning them with a new partner that could facilitate growth through additional investment.
Both the founder and the succeeding CEO elected to participate in the continued management of the company after closing and QVI continues to grow today.