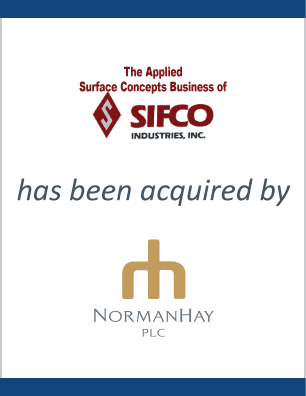 SIFCO Applied Surface Concepts
Spinning off a specialized division: From competitor to partner
For more than 100 years, nearly every airplane and helicopter ever made has had a SIFCO-forged part in it or on it. Through an industrial revolution, a transportation revolution, and two world wars, SIFCO continued to innovate and create unique machine components with intricate shapes and exotic materials. They continue to be a major player in the aerospace, defense, and energy sectors.
Ultimately, SIFCO's board of directors decided to divest its surface enhancement technologies division—three subsidiaries with seven facilities across North America and Europe. They called on EdgePoint to help them find the right buyer.
---
Separating the wheat from the chaff
Spinning off and building up
The first thing we did was create stand-alone financial statements for the group. The financial allocations, supply inter-dependencies, and corporate entanglements needed to be separated.
During this process, we determined that the division was undervalued and underdeveloped. The group of subsidiaries had unique capabilities and an international presence—there was an opportunity to strengthen the position for the market.
We reviewed hundreds of potential buyers worldwide, went through the list with SIFCO's M&A team, and conducted a full auction with the approved prospects. We leveraged our international connections and partners to garner interest and secure the highest value and terms.
Norman Hay, a UK-based leader in chemical manufacturing, emerged as the perfect synergistic match. Today, SIFCO's division continues to be a world leader in selective plating.
---
EdgePoint was the right choice for our divestiture. They gave us small-firm attention and big firm results. They brought to the table a synergistic UK buyer that is the perfect fit for our industrial equipment, supplies and service business, and then they got the job done.
Michael Lipscomb, President & CEO, SIFCO Industries