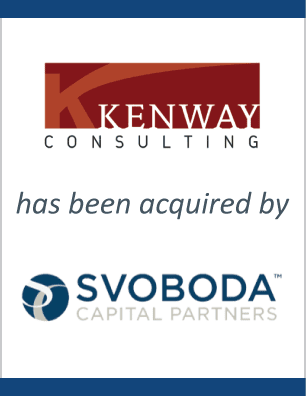 Kenway Consulting
Unlocking the value of a unique culture and commitment to people
Brian King spent years as a consultant for Accenture, but wanted his own business that prioritized people and process over pure profits. Emphasizing the importance of honesty, integrity, quality, and respect, he launched his management and technology consulting company in 2004. With client-first values and exceptional management, Chicago-based Kenway Consulting grew each year in its 15-year history. The firm's award-winning culture attracted and retained top-tier consulting talent.
At the age of 50, Brian King wanted to realize the value of what he had created while still being young enough to enjoy other pursuits. He also wanted to reward key management and preserve the firm's unique culture. Brian and his ownership team determined that the best way to ensure the future growth of Kenway was to align with a larger corporation or investor to pursue growth opportunities in new markets and facilitate potential mergers. They turned to EdgePoint for help.
---
Facilitating a personal connection
Our first step was to gain an understanding of this unique business. That required an appreciation of the culture and drivers of value. Then there was the additional challenge of providing managers with a multi-million-dollar stake that would retain top talent and motivate both the buyer and employees. We had to devise a customized ownership transition plan that met the price and management expectations.
Once the plan was in place we called our list of strategic buyers, which resulted in multiple letters of intent. After several rounds of discussion and evaluation, Brian King met with John Svoboda in person—a meeting we arranged to cement mutual respect and trust. A decision was made, and Svoboda Capital bought Kenway Consulting. The transaction preserved Brian King's legacy while providing liquidity for retirement, an opportunity to diversify his family's wealth, generous rewards for his management team, and an opportunity for growth. Most importantly, Kenway Consulting's name and values live on.
---
Working with EdgePoint was an incredibly positive experience. They flattened the learning curve with their experience and wisdom. They inserted themselves where possible to take work off my plate. And they handled my emotions with the right combination of patience, tough love and empathy. I wholeheartedly endorse their services to business owners considering their exit options.
Brian King, President & CEO, Kenway Consulting