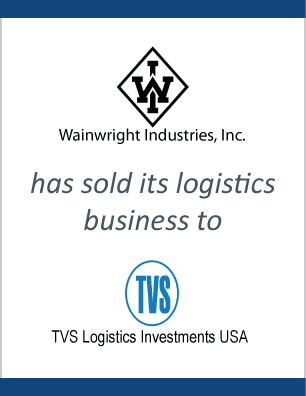 Wainwright Industries, Inc. has sold its logistics business to TVS Logistics Investments USA, Inc.
Wainwright Industries, Inc. (Wainwright) has been acquired by TVS Logistics Investments USA, Inc. terms of the transaction were not disclosed.
EdgePoint Capital initiated the transaction, identified and contacted TVS on behalf of Wainwright, led the negotiations, and served as the exclusive financial advisor to Wainwright.
Founded in 1947, Wainwright is a Missouri-based diversified operating company. It provides high-quality manufactured products and inventory management services including sequencing, third-party logistics, deconsolidation, subassembly, quality containment, and rework services to leading automotive, aerospace and consumer products manufacturers and their key suppliers. Wainwright is headquartered in St. Peters, Missouri with additional facilities in Wentzville, Missouri and Charlotte, North Carolina.
TVS Logistics Investment USA is a subsidiary of TVS Logistics Services Limited, which provides worldwide logistics solutions across automotive, distribution, electronics, and discrete component manufacturing sectors. The Company was founded in 1995 and is based in Chennai, India.
EdgePoint is a specialized investment banking firm that advises owners of middle market businesses on sales, divestiture, acquisition and other strategic transactions.