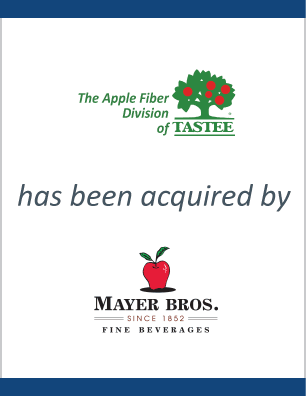 The Apple Fiber Division of Tastee Apple, Inc. has sold to Mayer Brothers
Mayer Brothers has acquired the Apple Fiber Division of Tastee Apple, Inc. Terms of the transaction were not disclosed.
EdgePoint Capital initiated the transaction and contacted Mayer Brothers on behalf of Tastee Apple, led the negotiations, and served as the exclusive financial advisor to Tastee Apple.
Founded in 1974, Tastee Apple, Inc. manufactures deluxe caramel and chocolate apples and apple cider. The Company has manufactured apple fiber powder, made from all-natural by-products of apple cider production, since 1986. The apple fiber division sells to ingredient manufacturers, neutraceutical companies, prepared food makers, and animal food producers. The company is based in Newcomerstown, Ohio.
Founded in 1852 and located in West Seneca, New York, Mayer Brothers is a leading producer of apple cider and is the largest selling branded apple juice product in the Western and Central New York Markets. The Company also produces and sells fruit juices, fruit products, and spring water.
EdgePoint is a leading investment banking firm focused on providing lower and middle market business owners with merger and acquisition advisory services.