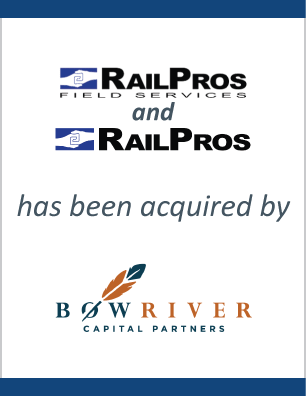 RailPros Partners with Bow River Capital
RailPros Field Services, Inc. and RailPros, Inc. (collectively "RailPros" or the "Company") recapitalized with Bow River Capital Partners. EdgePoint Capital ("EdgePoint") initiated the transaction, led the negotiations of the sale, and served as the exclusive sell-side advisor to RailPros. Terms of the transaction were not disclosed.
Headquartered in Irvine, CA and Grapevine, Texas, RailPros is the premier provider of professional services to the freight and passenger rail markets. RailPros offers a spectrum of value-added flagging, engineering, inspection, and utility coordination services to the country's leading Class I railroad operators and transit agencies.
Bow River Capital Partners is a private equity firm located in Denver, Colorado. With significant expertise with professional services organizations, including engineering firms, Bow River represented a qualified partner to provide capital and oversight to support RailPros through the next phase of its growth trajectory.
EdgePoint is a leading investment banking firm focused on providing middle market business owners with merger and acquisition advisory services.
Our clients say...

Johnny Johnson and Eric Hankinson
President and Vice President
RailPros
"EdgePoint was an excellent resource to help us navigate the sale process. They managed an organized and competitive auction, introduced us to qualified investor candidates, negotiated very attractive offers on our behalf, and fully supported us through the diligence and negotiation process. We are most pleased with their service."