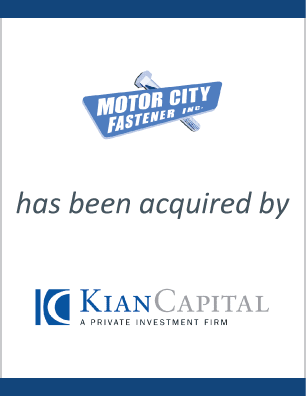 Motor City Fastener, Inc. has sold to Kian Capital
Kian Capital has acquired Motor City Fastener, Inc. ("Motor City" or the "Company"), the Hazel Park, Michigan-based value-added distributor of fasteners. EdgePoint served as the exclusive financial advisor to Motor City. Terms of the transaction were not disclosed.
For 50 years, Motor City Fastener has supplied the most diversified fastener inventory in the Midwest, serving the automotive, trucking, defense, construction and automation tooling industries. Motor City stocks more than 80,000 SKUs including hex caps, bolts, sockets, nuts, and washers. Motor City is known for its inventory of hard to find items, and the Company often acts as a value-added partner in the development of products for its customers.
Kian Capital, based in Charlotte, North Carolina, makes investments in leading lower middle-market companies across a broad range of industries. Kian Capital partnered with Oakland Standard Co., a Detroit-based private investment partnership, in the acquisition of Motor City.
In response to the transaction, Bob Puskas, President and CEO of Motor City, said, "I am excited about this new chapter in Motor City's history and am looking forward to working with Kian and Oakland Standard to continue growing the business. Kian and Oakland Standard have shown a deep understanding of the industry and have already identified several growth opportunities which I believe will increase Motor City's ability to deliver value to our customers."
EdgePoint is a leading investment banking firm focused on providing middle market business owners with merger and acquisition advisory services.