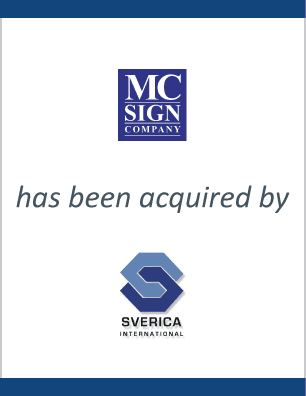 MC Sign Company has sold to Sverica International
Sverica International, a private equity group located in Boston, MA., acquired MC Sign Company, Inc., a privately held business located in Mentor, Ohio.
EdgePoint Capital Advisors initiated the transaction, led the negotiations and acted as exclusive financial advisor to MC Sign Company, Inc.
Although we equally value all of our clients, MC Sign Company is one of those engagements in which we particularly enjoy having been involved.
The history of MC Sign Company follows that of so many successful closely-held lower middle market companies we often encounter. Soon after graduating college the primary shareholder purchased a small crane truck from the original founder of MC Sign Company. This truck serviced single location retail clients in one rural county in Ohio. The new owner envisioned an innovative growth strategy that encompassed a national network providing both sign manufacturing as well as sign maintenance and repair. Emulating the entrepreneurial spirit we often see, the Company grew and emerged as a leading national, outsourced provider of sign installation programs and maintenance services. The company's experienced project managers and customer service representatives ensure timely, cost-effective installation and maintenance of outdoor signs for some of the largest retail, restaurant, and financial services companies in the United States. A continuously qualified network of more than 3,000 service technicians and wholesale manufacturers enables MC Sign to provide local service on a national scale. The owner of MC Sign Company realized profitable growth could still be achieved by partnering with an organization that could provide additional management and sales resources and growth capital. He had been introduced to the principals at EdgePoint Capital several years earlier and remained in contact with them during that period. He decided in 2007 that it was time to explore finding the best partner from a strategic and financial standpoint to pursue this strategy and EdgePoint Capital was engaged to assist him. EdgePoint orchestrated the process to identify a partner to meet MC Sign Company's needs and successfully paired MC Sign Company with Sverica International. MC Sign Company's Chief Operating Officer, Brad Steven commented, "It has been a pleasure working with EdgePoint Capital. We believe their professionalism, dedication and hard work contributed to the positive results we experienced in this process." MC Sign Company is well-positioned for future growth and success with the main principals at the helm.
Formed in 1993, Sverica International is a private equity group focused on taking an active role in the future of acquired companies as well as identifying attractive investment opportunities. Sverica focuses on a company's reputation with its customers, employees and suppliers, as well as its role in the community at large and potential for growth and development. In addition to providing the resources needed for a company to grow and succeed in its market, Sverica's professionals assist management in developing and executing strategic plans, establishing appropriate financing structures, and positioning the company for expansion.
EdgePoint Capital Advisors is a leading investment banking firm serving small and middle market companies. EdgePoint specializes in providing sell-side advisory, buy-side advisory and refinancing assistance to closely held companies with revenues typically between $5 million and $75 million. EdgePoint's principals have completed deals with an aggregate value in excess of hundreds of millions and are active in a variety of industries including manufacturing, distribution, service and technology. EdgePoint was founded in 2000 and is headquartered in Beachwood, Ohio.

Was able to continue managing the business while accessing the capital and resources necessary to continue the strategic growth trajectory he initiated.
Our clients say...

Tim Eippert
President
MC Sign Company
I did not fully realize the time commitment necessary to complete a transaction. The EdgePoint team enabled me and my key managers to remain focused on effectively operating the business, while guiding us through the marketing and due diligence process. Their skillful and strategic negotiations were instrumental in ultimately identifying and closing the our deal with a partner that best fit our goals and objectives.