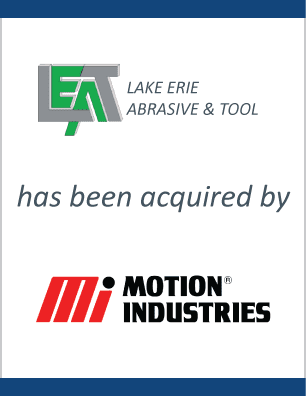 Lake Erie Abrasive & Tool, Inc. has sold to Motion Industries
Motion Industries has acquired Lake Erie Abrasive & Tool, Inc. ("Lake Erie" or the "Company"), the Euclid, Ohio-based industrial abrasives distributor. EdgePoint served as the exclusive financial advisor to Lake Erie Abrasive & Tool. Terms of the transaction were not disclosed.
For more than 45 years, Lake Erie Abrasive & Tool has provided industrial abrasives to some of the most demanding Fortune 100 companies. The Company leverages its technical knowledge and proprietary inventory management software to improve customer productivity and reduce inventory levels. Lake Erie operates locations in three states and uniquely serves the power generation, aviation, automotive, foundry, and industrial end markets.
Motion Industries, based in Birmingham, Alabama, is a leading distributor of MRO and OEM products to government and industrial customers in North America. As of 2014, Motion Industries had annual revenues of $4.8 billion and more than 150,000 customers. Motion Industries is a wholly owned subsidiary of Genuine Parts Company (NYSE: GPC).
EdgePoint is a leading investment banking firm focused on providing middle market business owners with merger and acquisition advisory services.