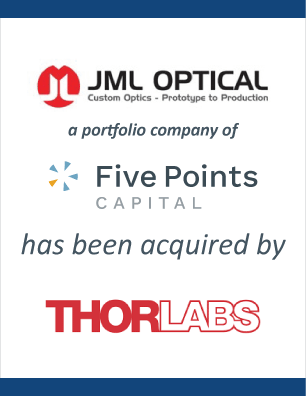 JML Optical Industries has been acquired by Thorlabs
Thorlabs has acquired JML Optical Industries, LLC ("JML" or the "Company"). EdgePoint served as the exclusive financial advisor to JML. Terms of the transaction were not disclosed.
JML is a precision-engineered custom optical solution provider offering optical and optomechanical design, rapid prototype, glass and metal fabrication, thin-film coating, metrology, environmental testing, and full assembly for a one-stop solution. JML was a portfolio company of Five Points Capital.
Thorlabs, a vertically integrated photonics products manufacturer, was founded in 1989 to serve the laser and electro-optics research market. Thorlabs has extended its core competencies in an effort to play an ever-increasing role to serve the Photonics Industry at the research end, as well as the industrial, life science, medical, and defense segments.
EdgePoint is a leading investment banking firm focused on providing middle market business owners with merger and acquisition advisory services.