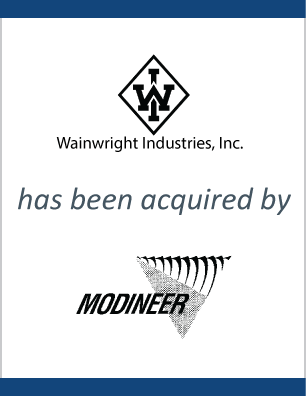 Wainwright Industries, Inc. has sold its Manufacturing Business to Modineer Company
Wainwright Industries, Inc. (Wainwright) has sold its manufacturing business to Modineer Company (Modineer). Terms of the transactions were not disclosed.
EdgePoint Capital initiated the transaction, contacted Modineer on behalf of Wainwright, led the negotiations, and served as the exclusive financial advisor to Wainwright.
Founded in 1947, Wainwright is a Missouri-based diversified operating company. It provides high-quality manufactured products and inventory management services including sequencing, third-party logistics, deconsolidation, subassembly, quality containment, and rework services to leading automotive, aerospace and consumer products manufacturers and their key suppliers. Wainwright is headquartered in St. Peters, Missouri with additional facilities in Wentzville, Missouri and Charlotte, North Carolina.
Modineer manufactures steel, aluminum, and stainless metal components for defense, automotive, and construction/agriculture markets in the United States. The Company's capabilities include rollforming, stamping, fabrication, tool design, and machining. Modineer was founded in 1940 and is based in Niles, Michigan.
EdgePoint is a specialized investment banking firm that advises owners of middle market businesses on sales, divestiture, acquisition and other strategic transactions.