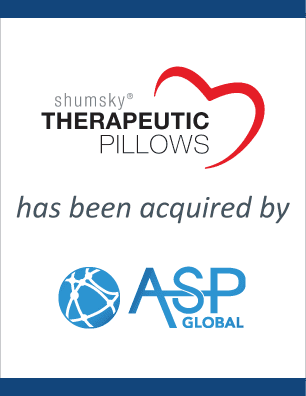 Shumsky Therapeutic Pillows has been acquired by ASP Global, a portfolio company of Incline Equity Partners
ASP Global, a portfolio company of Incline Equity Partners acquired Shumsky Therapeutic Pillows, LLC ("Shumsky"), a Dayton, Ohio-based distributor of custom branded, soft-good products to hospitals that aid in pre-surgery education and post-surgery patient comfort. EdgePoint served as the exclusive financial advisor to Shumsky. Terms of the transaction were not disclosed.
Founded in 1984, Shumsky (www.therapeuticpillows.com) maintains direct relationships with approximately 1,000 of the most prestigious hospitals and medical product distributors in the U.S. Over the course of its 35-year history, Shumsky established itself as the most recognized brand within the therapeutic pillow market to hospitals, distributors, and surgical patients all over the U.S.
ASP Global, headquartered in Atlanta, Georgia, is a value-added distributor of healthcare products. ASP Global was acquired by Incline Equity Partners in January 2020.
Headquartered in Pittsburgh, Pennsylvania, Incline Equity Partners is a national private investment firm that provides capital to middle-market companies with proven management teams and high growth potential.
EdgePoint is a leading investment banking firm focused on providing middle market business owners with merger and acquisition advisory services.
Our client say...

Michael Emoff
Owner
Shumsky Therapeutic Pillows, LLC
"EdgePoint proved a strategic choice for us, with their healthcare focus and great reputation we were able to find the perfect solution to carry our brand into the next decades. The EdgePoint team fit so well that we consider them part of "our team;" they cared about the things we cared about and guided us through all challenges of our first transaction. We highly recommend the EdgePoint team and plan to include them should we have future transactions"