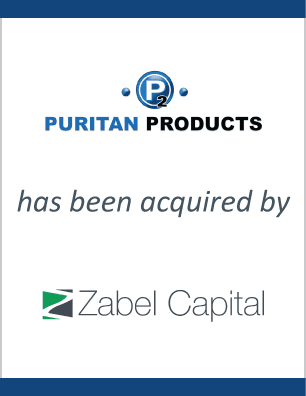 Puritan Products Has Been Recapitalized by Zabel Capital
Puritan Products, Inc. (Puritan) has been recapitalized by Zabel Capital (Zabel). Terms of the transaction were not disclosed. EdgePoint Capital initiated the transaction, identified and contacted Zabel on behalf of Puritan, led the negotiations, and served as the exclusive financial advisor to Puritan.
The transaction provides Puritan with additional financial and strategic resources. Puritan's majority Shareholder reinvested alongside the private equity firm and continues to lead the Company.
Puritan is a leading manufacturer of high-purity chemicals and custom-blended formulations used in pharmaceutical, biotechnology, microelectronic, and laboratory markets on a global basis. The Company was founded in 1987 and is based in Bethlehem, Pennsylvania.
Based in Charlotte, North Carolina, Zabel Capital is a private investment firm specializing in buyouts, recapitalizations, and growth capital investments in middle market companies. Zabel partners with management teams to grow its portfolio companies and build value over the long term.
EdgePoint Capital is a leading investment banking firm focused on providing lower and middle market business owners with merger and acquisition advisory services.