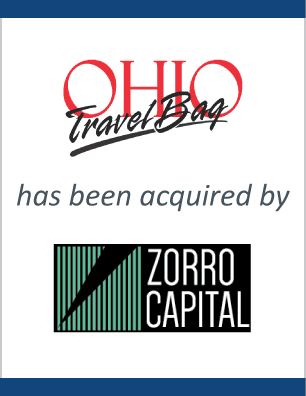 Ohio Travel Bag Manufacturing Co. has sold to Zorro Capital, LLC
Zorro Capital, LLC has acquired Ohio Travel Bag Manufacturing Co., the Cleveland, Ohio-based industry-leading wholesale distributor of hardware and fittings for luggage, handbags, cases, leather jewelry and leather goods. EdgePoint initiated the transaction, led the negotiations of the sale and served as the exclusive sell-side financial advisor to Ohio Travel Bag. Financing for the transaction was provided by Home Savings & Loan and F.N.B Capital Partners. Specific terms of the transaction were not disclosed.
Founded in 1908, Ohio Travel Bag is a wholesale distributor of specialized components, fittings, and parts used by customers in the manufacturing or repair of leather goods, handbags, luggage, upholstery and horse tack products. The Company's comprehensive printed catalog and website (www.ohiotravelbag.com) offer customers an extensive selection of more than 8,000 products.
Headquartered in Northeastern Ohio, Zorro Capital, LLC focuses on distribution industry investments in the lower middle market near the Cleveland/Akron/Canton area.
EdgePoint is a leading investment banking firm focused on providing middle market business owners with merger and acquisition advisory services.