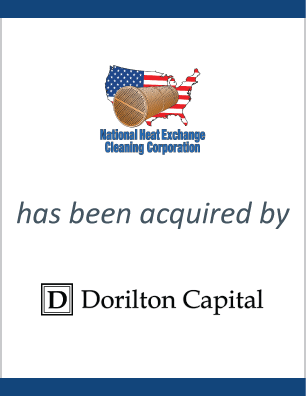 National Heat Exchange has sold to Dorilton Capital
National Heat Exchange Cleaning Corp. (National Heat Exchange), a D. W. Dickey and Son, Inc. Company, has been acquired by Dorilton Capital Advisors LLC (Dorilton Capital). Terms of the transaction were not disclosed.
EdgePoint initiated the above transaction, assisted in negotiations of the sale, and served as exclusive sell-side advisor to National Heat Exchange throughout the sale process.
National Heat Exchange offers cleaning and refurbishing services for heat exchangers used in power, refinery, chemical, and other industrial applications across North America. With patented mobile cleaning technology, the company's processes return heat exchangers to maximum efficiency levels and minimize environmental risk. Founded in 1995, National Heat Exchange is headquartered in Columbiana, Ohio.
Located in New York, New York, Dorilton Capital is a leading private equity firm specializing in mature, middle market, and buyout investments across a range of industry sectors. Founded in 2009, the company seeks to partner with management teams by acquiring a controlling interest in established companies.
EdgePoint is a leading investment banking firm focused on advising lower and middle market business owners with merger and acquisition advisory services.