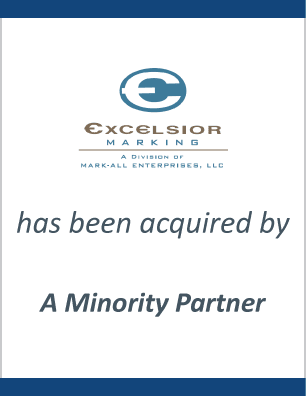 Excelsior Marking, LLC has sold to Minority Partner
Dave Sutter, former minority partner of Excelsior Marking, has acquired full ownership of Excelsior Marking, LLC. Terms of the transaction were not disclosed.
EdgePoint Capital initiated the transaction, identified and secured financing sources, led the negotiations, and served as the exclusive sell-side advisor to Excelsior Marking, LLC.
Founded in 1905, Excelsior manufactures marking products which are used to mark a wide variety of products. The Company sells its products primarily to the tire, equipment manufacturing, packaging, and office supply industries both domestically and internationally. The company is based in Akron, Ohio.
EdgePoint is a leading investment banking firm focused on providing lower and middle market business owners with merger and acquisition advisory services.