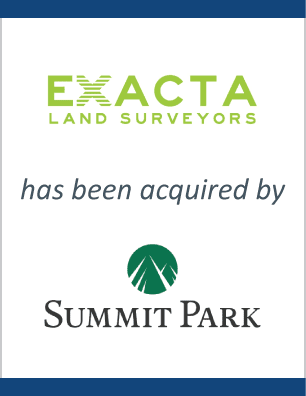 Exacta Land Surveyors has been recapitalized by Summit Park
Summit Park, a private equity firm based in Charlotte, North Carolina announced a recapitalization of Exacta Land Surveyors ("Exacta" or the "Company"). Headquartered in Cleveland, Ohio, Exacta is a leading provider of land surveys and field management services used to facilitate residential and commercial real estate transactions. EdgePoint served as the exclusive sell-side advisor to Exacta.
Exacta provides land surveys to a broad customer base of title insurance companies, mortgage lenders, attorneys, homebuilders, real estate brokers, and homeowners. Additionally, the Company offers utility/municipal lien search services, elevation certificates, and estoppel reports. Exacta currently operates in six states, including Ohio, Illinois, Florida, Maryland, Virginia, and Texas, and provides vendor management services to help customers procure surveys outside of its current geographic footprint. The Company has also developed industry-leading software, SurveyStars, which is offered to surveying firms as software as a service.
Summit Park is a Charlotte-based private equity firm that invests across a range of industries, including business and consumer services, light manufacturing, and value-added distribution in the Eastern half of the United States. The firm's capital can be used to facilitate a change in ownership, to support expansion and growth, to provide partial liquidity to existing owners, or to support an industry consolidation plan.
EdgePoint is a leading investment banking firm focused on providing middle market business owners with merger and acquisition advisory services.