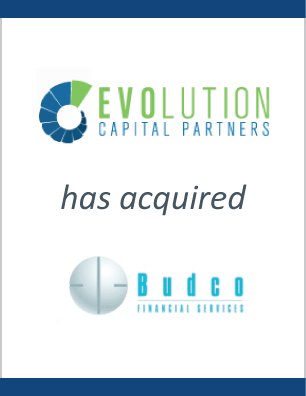 Evolution Capital Partners LLC Acquires Budco Financial Services LLC
Evolution Capital Partners LLC (Evolution) and Bud Brian have acquired Budco Financial Services LLC (BFSI).
EdgePoint initiated the transaction and served as the exclusive buyside advisor on the transaction.
BFSI, based in Highland Park, Michigan, is a payment processing business financing extended warranty programs for vehicle manufacturers and other OEMs. BFSI was a wholly owned subsidiary of Budco Corporation until November 2011. Since then, it has been operating as an independent company in partnership with Budco.
"We are thrilled to partner with the company's founder, Bud Brian, to complete his vision for BFSI," said Brendan Anderson, Co-Founder & Managing Partner, Evolution. Mr. Brian will return to BFSI as CEO.
"As the original founder, it is very exciting to have the rare opportunity to return as CEO of a business you are extremely passionate about to see it through to its full growth potential," said Mr. Brian.
EdgePoint Capital is a leading investment banking firm focused on providing lower and middle market business owners with merger and acquisition advisory services.