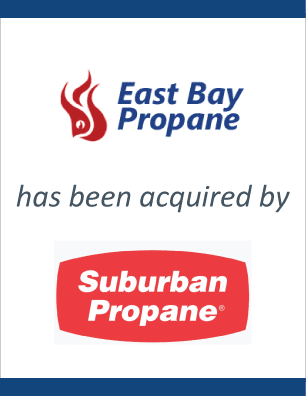 East Bay Propane has been acquired by Suburban Propane Partners
Suburban Propane Partners, L.P. (NYSE: SPH) has acquired East Bay Propane, a privately held Oakland, California-based distributor of liquid propane gas. EdgePoint served as the exclusive financial advisor to East Bay Propane on the transaction. The terms of the sale were not disclosed.
Since its founding in 1987, East Bay Propane has been providing safe, reliable and affordable propane delivery services to commercial and industrial customers throughout the Bay Area of California. Over the company's 30 years in business, East Bay Propane earned a reputation for being one of the region's most trusted providers of liquid propane gas and related services.
Headquartered in Whippany, New Jersey, Suburban Propane Partners is a nationwide distributor of propane, heating oil, and refined fuels, as well as a marketer of natural gas and electricity. Suburban Propane maintains business in 41 states, providing prompt, reliable service to 1.1 million residential, commercial, industrial and agricultural customers through 668 locations.
EdgePoint is an award-winning investment banking firm, recognized for providing sophisticated merger and acquisition advisory services to middle-market clients.