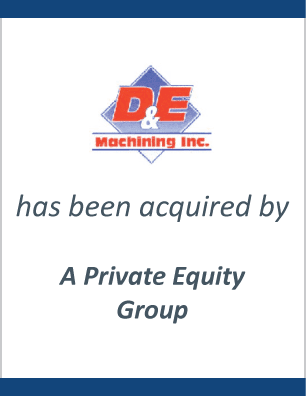 D&E Machining Inc. has been acquired by A Private Equity Group
An undisclosed private equity group has acquired D&E Machining Inc. The terms of the transaction were not disclosed. EdgePoint Capital led the negotiations and served as exclusive financial advisor to D&E Machining Inc.
D&E Machining Inc. is a dedicated outsourced provider of soft-turned and finished metal products for several leading corporations primarily in the aerospace, government, and bearing industries. Since its inception in 1993, the Company shifted away from the standard job-shop contract business model and evolved to become a primary and dedicated source of application specific engineered parts.
EdgePoint is a leading investment banking firm focused on providing middle market business owners with merger and acquisition advisory services.