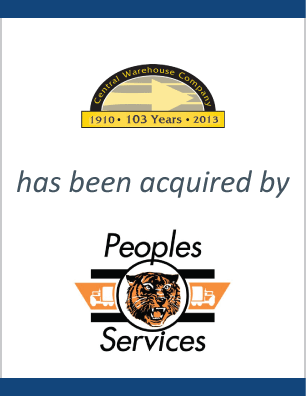 Central Warehouse Company has sold to Peoples Services, Inc.
Peoples Services, Inc. has acquired Central Warehouse Company, terms of the transaction were not disclosed.
EdgePoint Capital initiated the transaction, including identifying and contacting Peoples Services, Inc. on behalf of Central Warehouse Company, led the negotiations, and served as the exclusive financial advisor to Central Warehouse Company.
Founded in 1910, Central Warehouse Company operates multiple warehousing facilities serving a variety of industries including chemicals, automotive, food, paper, consumer products, and semiconductor materials. The company is headquartered in Saginaw, Michigan, with locations in Midland, Michigan, and Vandalia, Ohio.
Headquartered in Canton, Ohio, Peoples Services, Inc. is a leading provider of logistics and public and contract warehousing to a wide variety of industries. They occupy approximately 4.5 million square feet of facilities located in Ohio, West Virginia, Virginia, North Carolina, and South Carolina.
EdgePoint is a leading investment banking firm focused on providing lower and middle market business owners with merger and acquisition advisory services.
Our client says...

John Strobel
Former President & CEO
Central Warehouse Company
"Selling a business is difficult. It is a complex and daunting task. Often the transaction is complicated by intense emotions. This was especially true for me as the 4th generation owner/operator of Central Warehouse Operations, Inc. I needed a partner in this adventure who would take control, focus solely on my best interest and track the thousands of details capably. I needed absolute confidence, complete trust, top flight financial savvy and more than a little emotional support.
I found all of this in John Herubin of EdgePoint Capital. He and his team stuck with me through several near deals, the long dry period of the recession and in the end found the perfect buyer for us. Peoples Services, who bought my company, is a great home for my employees and a great operator for my clients. The price was solid, the transaction smooth and the results were positive for all."