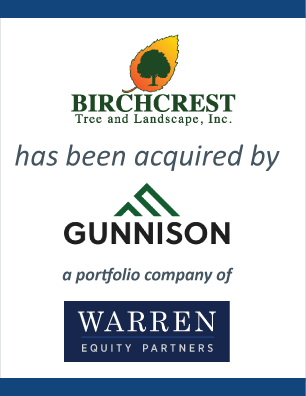 Birchcrest Tree and Landscape has been acquired by Gunnison, a portfolio company of Warren Equity Partners
Birchcrest Tree and Landscape, Inc. ("Birchcrest") has been acquired by private equity firm Warren Equity Partners ("Warren") through its portfolio company Gunnison Company ("Gunnison"). EdgePoint served as the exclusive financial advisor to Birchcrest on the transaction. Financial details were not disclosed.
Headquartered in Rochester, NY, Birchcrest is a leading provider of tree care and other vegetation management services throughout the northeastern United States for residential, commercial, municipal, and utility customers. Birchcrest offers a complete portfolio of maintenance-focused tree care services, including traditional landscaping, lawncare, year-round plant healthcare services, as well as host of mechanically-focused tree care services for utilities, including utility-line clearance services and unique storm work capabilities.
Warren is a Jacksonville, Florida-based private equity firm investing in middle market companies operating primarily in the industrial and business services sectors with a focus on infrastructure maintenance and repair.
Formed in May of 2020 and based in Atlanta, Georgia, Gunnison is a leading provider comprehensive tree and vegetation management services for utility, government, residential, and commercial customers throughout the eastern U.S.
EdgePoint is a leading investment banking firm focused on providing middle market businesses with merger and acquisition advisory services.