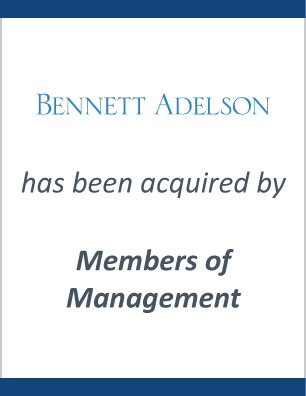 Bennett Adelson Consulting, Inc. has been acquired by Members of Management
Bennett Adelson Consulting, Inc. (the "Company") was acquired by Members of the Management team. EdgePoint Capital ("EdgePoint") consulted on the transaction, led the negotiations of the purchase, sourced financing, and served as the exclusive buy-side advisor to the Management Team. Terms of the transaction were not disclosed.
Headquartered in Cleveland, Ohio, Bennett Adelson is a provider of information technology services and user-centric enterprise-level software solutions. The Company focuses on cloud, business intelligence, Microsoft 365, collaborative applications and mobile services.
EdgePoint is a leading investment banking firm focused on providing middle market business owners with merger and acquisition advisory services.