Will Reimbursement Changes Slow the Healthcare M&A train
By Matt Bodenstedt, Managing Director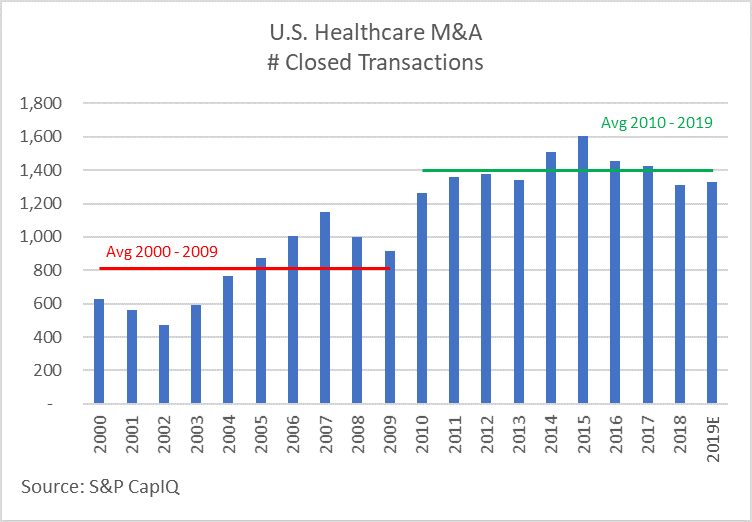 Healthcare merger and acquisition (M&A) activity continues at a vigorous pace in early 2019, consistent with the average of the last 10 years, and well above the previous decade. Growing cash accounts on corporate balance sheets and strong private equity fundraising will fuel robust M&A activity generally; while demographic trends and rising fears of a recession will favor healthcare as a relative safe-haven. For two subsectors, however, soon-to-be-implemented changes to Medicare reimbursement—which often lead to similar changes by other payers—add uncertainty to the equation and have us wondering if the appetite for acquisitions in these service lines will be diminished. As you'll see below, despite conceptually similar reimbursement changes, transaction volume for Home Health and Skilled Nursing Facilities appear to be trending in opposite directions.
Home Health
Effective January 1, 2020, the prospective payment model for Medicare will change from the current Home Health Resource Group model (HHRG) to a new Patient-Driven Groupings Model (PDGM). Under the current model, home health agencies (HHAs) receive a "bundled" payment for each patient based upon an assessment using the Outcomes and Assessment Information Set (OASIS). A patient will fall into 1 of 153 HHRGs based on the assessment of clinical needs, functional needs, and service use (therapy visits), and whether the episode of treatment is early or late (essentially, first episode or follow up). The new system is designed to remove the incentive to overutilize therapy, while also providing adequate reimbursement for patients with other medical needs such as parenteral nutrition and wound care. Under this system, a patient will be placed into 1 of 432 possible PDGM categories based upon:
Early or Late
Institutional (admitted within 14 days of hospital stay) or community
12 Clinical Groupings
3 Functional Levels
3 Comorbidity Adjustments
The Centers for Medicare and Medicaid Services (CMS) assumes HHAs will seek to take advantage of the new model, documenting comorbidities more thoroughly and otherwise coding more aggressively, to maximize reimbursement. Because CMS has been charged with assuring the new reimbursement model is budget neutral (i.e. no net change in total Medicare outlays for home health services), the new model also incorporates rate reductions to offset these "behavior changes." Agencies that do not change their coding/billing practices could experience a rate cut of up to 6.4%. In addition to a more complex patient grouping model, CMS has shortened the episode of care from a 60-day period to only 30 days, essentially doubling the billing requirements, and magnifying the administrative burden.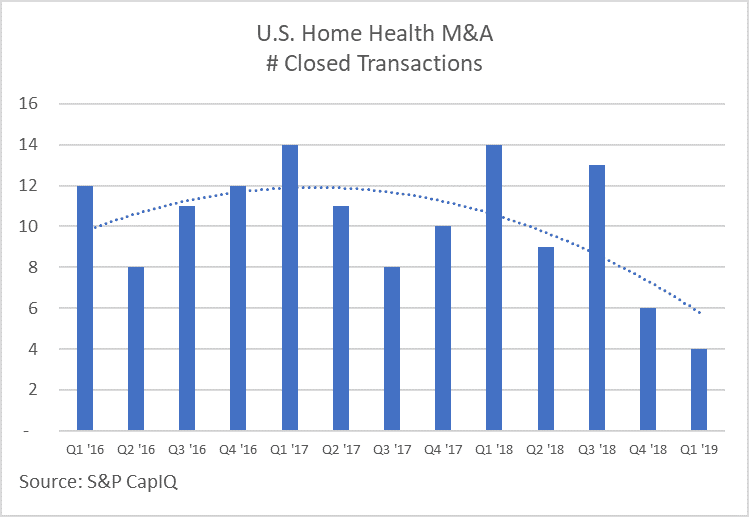 As illustrated by the chart to the left, M&A transaction volume for HHAs has declined noticeably over the past six months. Based on data pulled from S&P's CapIQ database, the first quarter of 2019 had only four transactions involving a HHA, each of which was a relatively small strategic acquisition. Conversely, for 2016, 2017, and 2018, first quarter transactions were the highest of each respective year, at an average of nearly 14 transactions.
Conversations with private equity groups and strategic buyers support our theory they have turned their attention to private duty home care services, which don't rely on Medicare or Medicaid, as well as to hospice which continues to receive comparatively favorable reimbursement changes. We expect this trend to continue throughout 2019 and into early 2020 as investors take a wait and see approach. By mid-2020 however, we believe those HHAs who've successfully adapted to the new payment model will go bargain hunting for market share, driving up transaction volume, but also depressing valuation multiples. If you are a regionally strong home health agency with a strong management team, a well-defined strategy for managing the transition to PDGM, and a desire to take advantage of the opportunities coming in 2020, now is the right time to present your company to the private equity community as a platform opportunity.
Skilled Nursing Facilities
As of October 1, 2019, the Patient Driven Payment Model (PDPM) will replace the current classification system, Resource Utilization Group, Version IV (RUG-IV). Similar to the home health model discussed above, CMS believes the current system, "creates an incentive for [skilled nursing facility (SNF)] providers to furnish therapy to SNF patients regardless of the patient's unique characteristics, goals, or needs." The PDPM classification methodology utilizes a combination of six payment components, five of which are case-mix adjusted to cover utilization of SNF resources that vary according to patient characteristics. Different patient characteristics are used to determine a patient's classification into a case-mix group (CMG) within each of the case-mix adjusted payment components.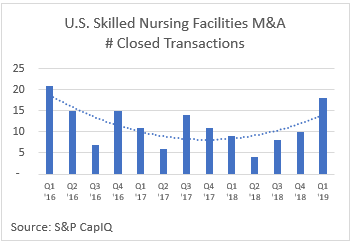 Once again, this change is designed to be budget neutral; therefore, we can expect winners and losers as providers adapt to the new system. For many smaller providers, already struggling after years of declining reimbursement and falling census, this change is the proverbial last straw. As illustrated by the graph to the right, the fear of this change appears to have motivated smaller players to seek an exit now rather than take on yet one more challenge. The sheer volume of transactions also reflects the real estate dynamic inherent with SNFs as opposed to HHAs. Many of the transactions were initiated by REITs rather than an operator. Several of the larger operators (e.g. HCR ManorCare) have been net sellers of properties over the past several years.
Like with HHAs, we believe this environment presents a unique opportunity for a regionally strong SNF operator with an excellent management team. We believe an enterprising leadership team, supported by a private equity group seeking a value investment in an oft overlooked, underappreciated industry, will be presented with many add-on opportunities in the next few years. Such an organization will be well-positioned for the inevitable rebound as demographics and the closure of failing properties drive average daily census back toward 90%.
© Copyrighted by EdgePoint. Matt Bodenstedt can be reached at 216-342-5748 or via email at mbodenstedt@edgepoint.com.